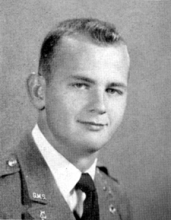 James Paul "Jim" Clark, 88, of St. Albans, passed away peacefully Sunday, April 8, 2018, at Broadmore Assisted Living, Hurricane, WV.
Born June 15, 1929, in Clendenin, WV, he was the youngest child of the late Thomas A. and Retha L. Robertson Clark. In addition to his parents, he was preceded in death by his wife, Imogene Bennett Clark, and his three brothers and four sisters.
Jim was a graduate of Clendenin High School, Greenbrier Military School and the University of Charleston and attended the University of Richmond. He was employed by Baxter Healthcare Corporation and served on the West Virginia State Board of Education. During the Korean War, he served in the United States Navy aboard the USS Essex. He was a member of St. Andrew United Methodist Church, St. Albans, attending the Crusader Sunday School class and was an Admiral in the Cherry River Navy. He enjoyed the outdoors, hunting and fishing. A dedicated husband, father and grandfather, Jim made sure the family was well-educated and well provided for.
Lovingly known as "Pap" to his family, surviving are his daughters, Catherine Ann of St. Albans, Mary Beth and husband Roger Murad of South Charleston, Debra Jean and husband Bill Howard of Scott Depot, Jennifer and husband Bob Weaver, Esq., of Charleston, Janet and husband Jeff Neal, M.D., of Lexington, Ky; sons, James Clark II, M.D., and wife Angie of Winfield, Chris Clark, M.D., and wife Ashley Clark, M.D., of Hurricane; grandchildren, Megan and Adam Howard, Emilee, Ragie and Nick Murad, Robby, Drew, Molly and Katie Weaver, Matt, Ali and Jennifer Neal, Amanda, Jimmy, Ben, Jack and Elana Clark, and Christopher, Virginia, Sarah and Samuel Clark; great-granddaughters, Sanaya and Maya Clark.
Funeral service will be held at 11 a.m. Thursday, April 12, at Bartlett-Chapman Funeral Home, St. Albans, officiated by Dr. Ed Grant. Burial will follow in Cunningham Memorial Park, St. Albans. You may visit Jim's tribute page at ChapmanFuneralHomes.com to share memories. Visitation will be held from 6 to 8 p.m. Wednesday at the funeral home.
The family would like to thank the staff of Broadmore Assisted Living, as well as Hospice Care for the care and compassion extended to Pap during his final illness.
In lieu of flowers, memorial contributions may be made to Hospice Care, 1606 Kanawha Blvd., West, Charleston, WV 25387.
Bartlett-Chapman Funeral Home, family-owned and located at 409 Sixth Avenue, St. Albans, is honored to serve the Clark family.